Payroll Giving

For Employers
Your employees want to change the world while they work, and you can help them do it. Our free, easy-to-use platform allows employees to donate to any UK charity before their income tax is calculated, so charities get more from every donation and your employees pay less income tax.
Why Choose GoodPAYE?
Easy to Use
Our cloud-based platform is easy to set up and manage, integrates with all payroll systems in seconds and is completely free to use. It really is that simple.
Secure & GDPR-Compliant
We value your privacy and we use the highest levels of security and encryption to keep our platform and your data 100% safe and fully compliant.
Marketing Support
We will provide you with digital and off-line marketing materials and campaigns free of charge, to promote Payroll Giving within your business.
Employee Engagement
Employees engage best with employers who help them find purpose. With Payroll Giving their donations work as hard as they do, instilling pride and increasing productivity.
Corporate Social Responsibility
Be a responsible employer by offering Payroll Giving and boost your charitable giving even more with our flexible Donation Matching options.
Quality Mark Awards
Gain a government-recognised Quality Mark Award for Payroll Giving and tell the world about the impact you and your employees are having on amazing causes.
We're on a mission to revolutionise Payroll Giving. Using tech-for-good, we're increasing the accessibility and uptake of Payroll Giving and driving huge financial and social impact to charities, employers and employees.
Here's how it works...
Get in touch to arrange a chat or a demo – we'll show you how it works and answer your questions.
Sign up and we'll create bespoke marketing campaigns and materials to engage with your employees.
You and your payroll team get secure access to the GoodPAYE platform. Log in at any time to see the impact that your employees are having.
Our platform works with all payroll software. Log in, download your employee instructions and upload them into your payroll software to make the donation deductions on payday.
Transfer all employee donations in one lump sum each payday to our Payroll Giving Agency, who'll distribute them to your employee's nominated charities. There are no fees and we'll take care of everything!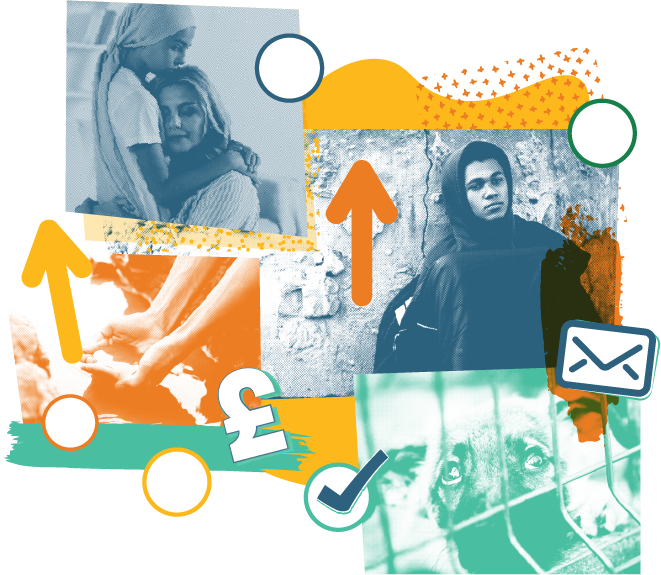 Frequently Asked Questions
How do I get tax relief from donating to charity?
Donating to charity via Payroll Giving is the most tax-efficient way to donate to charity. All payroll giving donations are deducted before income tax is calculated, which means that employees will pay less income tax to the tax man. Instead, their nominated charities will receive the full pre-tax amount. The higher your income tax band, the greater the impact. Here's an example:
If you want to give £10 of your take-home earnings to charity:
20% Income Tax Band: you could give £12.50 to charity and it will only cost you £10
40% Income Tax Band: you could give £16.66 to charity and it will only cost you £10
45% Income Tax Band: you could give £18.18 to charity and it will only cost you £10
The difference between the £10 cost to you and the £2.50 / £6.66 / £8.18 extra that the charity will receive is the amount that you would otherwise have paid in income tax to the tax man. We call this the "payroll giving bonus".
The more you give, the less income tax you pay and the more your charities will receive. Finally, your donations can work as hard as you do.
What is National Payroll Week?
National Payroll Week was established in the UK by the CIPP in 1998 to celebrate the payroll profession and to give it the recognition it deserves. The week is designed to demonstrate the impact the payroll industry has in the UK through the collection of income tax and National Insurance; especially when you consider the £249 billion paid to the government through income tax and national insurance contributions.
Gift Aid and Payroll Giving, what's the difference?
When you donate to charity directly, e.g. via Direct Debit, you may have seen the option to tick the "Gift Aid" box. If you are a UK tax payer, ticking the box will enable the charity to retrospectively claim an additional 25% of your donation from HMRC. For example:
You give £10 per month by direct debit and tick the gift aid box. £10 gets taken from your bank and given to charity. A few months later, the charity will claim an additional £2.50 (25% of £10) from HMRC. The £10 that get's taken from your bank is taken from your net take-home pay, i.e. the salary that you actually receive from your employer after all the income tax is calculated and deducted.
However, with Payroll Giving, your donations are deducted from your gross pay, i.e. before income tax is calculated. This means that you pay less income tax to HMRC, and instead your charity will receive it. For example:
You're in the 20% income tax band and you give £12.50 to charity via payroll giving. Your gross salary is reduced by £12.50 and the charity receives that £12.50 without needing to claim anything. You will pay less income tax because your gross salary is now £12.50 less. And therefore your net take-home pay (the amount you actually receive in the bank from your employer) is only reduced by £10.
And whereas Gift Aid is capped at 25%, there is no cap on payroll giving donations. So if you're in the 40% or 45% income tax rate band, the benefit is even greater! For example:
40% Income Tax Band: you could give £16.66 to charity from your gross pay and it will only reduce your net take-home pay by £10.
45% Income Tax Band: you could give £18.18 to charity from your gross pay and it will only reduce your net take-home pay by £10.
What Are the Benefits of Payroll Giving?
There are so many great benefits of Payroll Giving.
It's super-easy to set up and use
It's fully secure and GDPR compliant
We help you promote it to your employees
It increases employee engagement
It improves your corporate social responsibility objectives
It provides regular and reliable income stream
You will receive 100% of all donations
It's better than a Gift Aid donation
You can access new hard-to-reach supporters
Build new long-lasting supporter relationships
Create your own charity landing page
Your donations work harder due to the "Payroll Giving Bonus"
You can create greater impact from your support
You can support any UK-registered charity
Support as many charities as you like, with flexible donation amounts
Super simple, quick and easy to set up
You can log in any time to make any changes
We take care of it all for you, so you don't need to manage direct debits or enter bank details.
What Is Payroll Giving?
It is the simplest, most efficient and most impactful way for employees of any business to donate to their chosen charities directly from their salary, tax-free and hassle-free, making their money work hard to create change.